PROCESS DIRECTOR
A control center for directing processes in your SAP® system

PROCESS DIRECTOR gives you a single platform for handling a wide range of different processes inside your SAP system. The PROCESS DIRECTOR software platform can be easily adjusted to handle your specific processes and comes with pre-defined logic for directing document-driven and request-driven processes.

Document-driven processes
This means handling delivery notes, sales orders, remittance advice, etc. PROCESS DIRECTOR works as a control center where you can approve and process incoming documents, no matter how they arrive.

Request-driven processes
This means for example purchase requisitions, requests for master data changes (vendor master, cost center master etc), and creation or changes to business data (FI correction postings). With PROCESS DIRECTOR, you can enter these requests directly into SAP and send them off to the correct persons for approval.

Work inside SAP
PROCESS DIRECTOR resides inside SAP. This means that you can work in your familar SAP environment. It also means that entered information can be automatically matched against SAP data such as any kind of master data or transactional data (like existing purchase orders).

If there are discrepancies between the information in PROCESS DIRECTOR and the data in SAP, the user is notified and can start investigating which information is correct.


Work in a web interface or inside SAP
Besides the web appearance PROCESS DIRECTOR also comes with an SAP user interface, showing the same data as the web application. Select the one you are most familiar with and switch whenever you feel like a change in your work environment.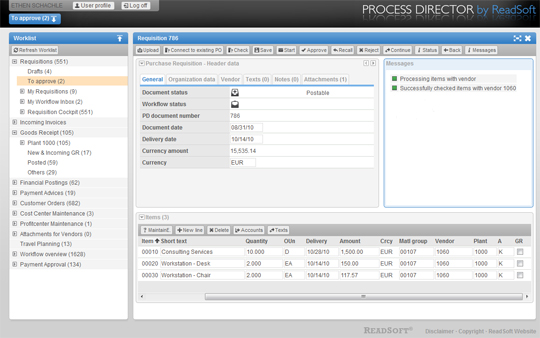 Suitable for you if:
Your company uses SAP and want to improve the handling of document-driven or request-driven processes.

With PROCESS DIRECTOR, you will:
To use the example of a sales order:
Let's say you sent your customer a quote for €1000. But on the order you get from the customer, it says €900. PROCESS DIRECTOR will notify you of this discrepancy and you can follow up on it. PROCESS DIRECTOR will also check that you have the ordered goods in stock (according to data in SAP).


Technical capabilities:
Work inside SAP with the familiar SAP look and feel. PROCESS DIRECTOR is strictly separated from the SAP standard and does not require any modifications in the SAP system (ABAP Add On).
Reuse and optimization of existing SAP infrastructure means low total cost of ownership (TCO).
Single workflow tool for multiple processes.
Document approval (workflow) is handled in a web interface or inside SAP.
Archiving and linking of attachments such as a scanned image with any ArchiveLink-enabled content repository.
Configurable worklist for easy separation and organization of documents.
The solution is easily customized and configured according to your specific needs and document flows. Perfect for shared service centers wanting to add on more processes over time.
Business system integration
PROCESS DIRECTOR works seamlessly inside SAP and looks just like your regular SAP system.